Behind The Scenes of DailyNata
Olá, I'm Amin, the founder of DailyNata. I'm on a mission to make learning Portuguese as enjoyable as savoring a delicious pastel de nata.
Join me on a journey where we explore a unique idea, fueled by a team of passionate individuals, to revolutionize the way Portuguese is learned.
I will take you through the story of how it all came together.
🧳 Amin's Big Move to Porto
Towards the end of 2022, I moved from Amsterdam to Porto, trading the canals of Amsterdam for the cobblestone streets of Porto, looking forward to a new beginning. Porto was lively, with Portuguese conversations everywhere. I was eager to understand it all. So, I found an online teacher, downloaded Duolingo and Memrise, and got started. My motivation was high!
But a month later, things took a turn. The content I was learning couldn't hold my interest. With no interest, there was no practice, and my motivation was dwindling fast.
📚 Learning Portuguese: Not a Walk in the Park
Learning Portuguese quickly went from an exciting challenge to a frustrating battle. I felt lost in a city I now called home, without understanding its language. 
One night, I found myself learning the sentence 'My cat has a beautiful profile picture.' I don't even own a cat! That's when I knew: the traditional ways I was using weren't cutting it. Irrelevant phrases, rote learning, and hardly any European Portuguese material made me think: there had to be a better way.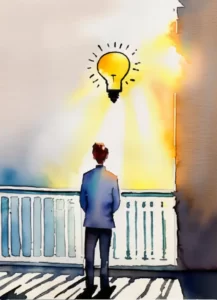 💪 The Comeback
One sunny afternoon, as I was soaking up the vibrant life from my balcony, an idea hit me. What if learning Portuguese could be as fun as this view? This thought got me excited about learning again. 
I started dreaming of a platform that made learning Portuguese fun with simple, easy-to-digest lessons. After a well-deserved nap, I couldn't shake this idea off. In the following weeks, I started turning this dream into reality, taking the first steps towards building DailyNata.
🚪 Enter Sarah & the Beginning of DailyNata
My Portuguese wasn't perfect yet, so I needed a local. I remembered Sarah from a past project – a hard worker and a sharp thinker. I shared my idea with her, and she was all in.
On the last day of June 2022, DailyNata was born. We started with about 100 subscribers, thanks to Sarah's efforts on Facebook. It all began with a daily email. As we started getting feedback, we improved DailyNata, adding pronunciation help, detailed footnotes, and tweaking how often we sent emails.
👋 The Arrival of Sara & Our Secret Weapons
When we hit 1,000 subscribers, Sarah and I realized we needed help. Creating content, proofreading it, and marketing – it was a lot. That's when we found Sara, a skilled Portuguese teacher. After sharing my vision, we discover we had a similar dream: a fun, effective platform to teach Portuguese. It was perfect! Sara joined us, and with her, our lessons got even better.
We couldn't have made DailyNata what it is without some heroes. Ruben, the whiz behind our design, and Daniel, the voice of our stories, have been helping us from the start. 
Today, we're proud to say that we've helped thousands enjoy learning Portuguese. So why not give it a try? Come and experience a fun new way to learn with us.
💬 A Candid Conversation – Amin Interviews Himself:
Why the name DailyNata?
I wanted a name that reinforced the importance of daily learning habits, so 'Daily' was a given. 'Nata', besides being short and catchy, is also a nod to Portugal's beloved Pastel de Nata. It's a sweet reminder that learning should be enjoyable, not a chore. 
Where is DailyNata going?
Our direction isn't set in stone. We have our goals, but we're constantly listening to our members. Their feedback, whether it's a comment or a simple reaction to a post, is invaluable. 
Join DailyNata lessons, they're twice a week and free!